A bright new beginning
We're excited to bring you the first e-newsletter of Smart Start of Forsyth County! Through these emails, we plan to keep you up-to-date on the great things happening in the world of early childhood development and education in our community. You'll find insights, inspiration, news, updates, and important reminders. Want to suggest an addition? Email us at ssfc@smartstart-fc.org. We'd love to hear from you!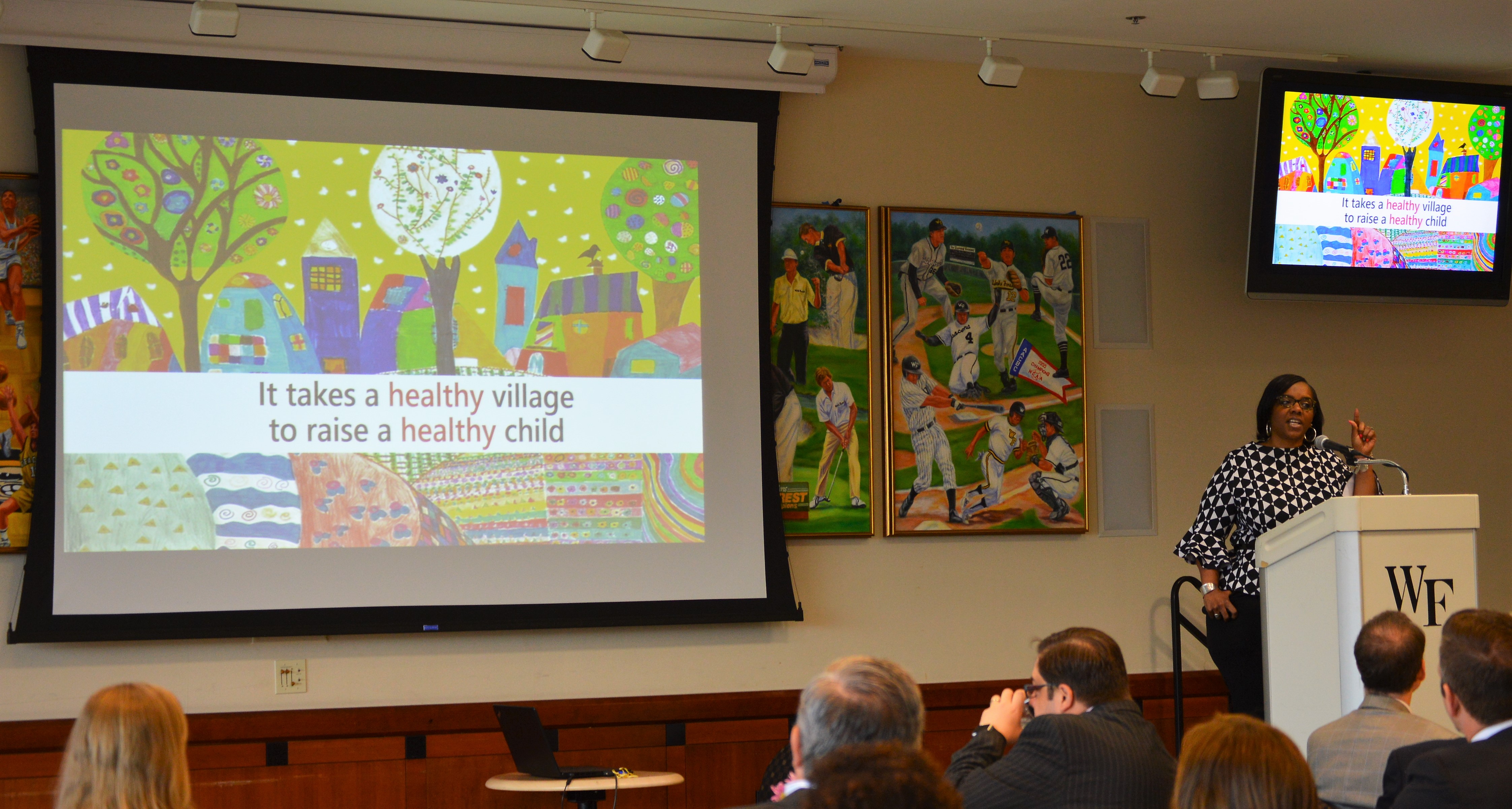 What a way to start the day!
The Raising Forsyth Breakfast on April 11 was amazing! More than 150 people gathered at the Bridger Field House to support of Smart Start of Forsyth County and to listen to our keynote speaker, Nefertiti Poyner Ed.D. She shared an inspirational and practical message about building resilience in young children and what we can do - as individuals and as a community - to help them avoid and overcome Adverse Childhood Experiences. Everyone left with a new set of tools to improve their own emotional well-being as well as that of the children we serve.
In addition to Dr. Poyner's remarks, we were pleased to hear from SSFC's Board Chair, Matt Britt, and our Interim Executive Director, Jackie Lofton. They provided updates about the progress of SSFC and our community partners during the past year. You can see a snapshot of our accomplishments in our Community Impact 2018 report.
We sincerely thank everyone who attended and donated at the event. Our sponsors made it all possible and we recognize them for their generosity and support of our mission. You are the best! Stay tuned for details on next year's Raising Forsyth Breakfast in an upcoming newsletter.
Raising Forsyth Breakfast Sponsors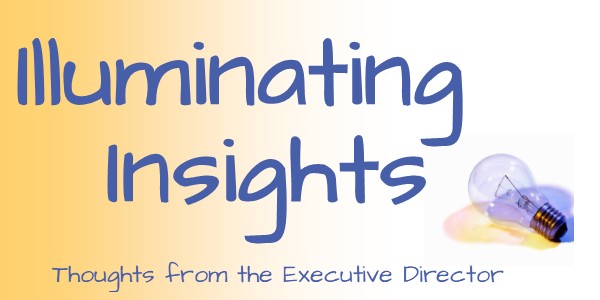 So much is currently happening throughout our county and the state related to early childhood development and education. It's an exciting time to be involved with Smart Start!
As I watch our progress in making sure each child can be healthy and happy, though, I can't help but think of the many young children in Forsyth County who face hardship every day. These children are growing up in circumstances that not only negatively impact their brain development and learning now, but are also setting the foundation for health problems far in the future.
Two decades ago, the Center for Disease Control released a groundbreaking study that found causal links between specific traumatic experiences in early childhood and major health issues in adulthood. The CDC labels these as Adverse Childhood Experiences (ACEs) and its continued research has reinforced our understanding of their detrimental effects.
Smart Start of Forsyth County is dedicated to helping young children be physically, mentally, and emotionally prepared for kindergarten and beyond. With this mission, we strive to implement any learning that can make the lives of children better.
That is why Dr. Nefertiti Poyner's message at our Raising Forsyth Breakfast was so powerful – she shared how we can assist children and families in overcoming the effects of ACEs and how we as a community can build resilience and improved outcomes. Her voice, along with those of other nationally recognized experts, leads us to recognize that we can effect change in Winston-Salem and Forsyth County.
As we invest the time to learn about ACEs, our minds will be opened to the collaborative possibilities of reducing their prevalence in our community. This will allow us to have unfettered, frank discussions to understand the need around us. We will then be able to take informed action that will truly help families change their circumstances.
I invite you, me, and our community to be a part of the ACEs conversation and, more importantly, the solution!


Interim Executive Director
For more information about ACEs, please watch the TED talk by Dr. Nadine Burke-Harris.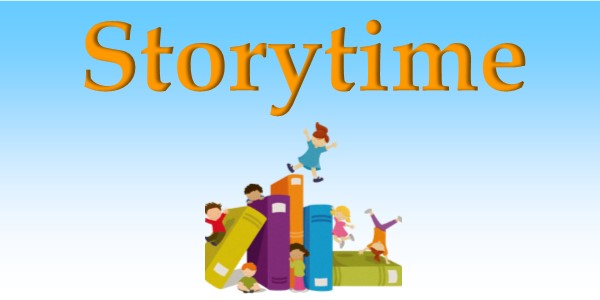 Last week, Forsyth Tech Community College celebrated its newest batch of graduates. Among them was Mary Alice Coleman.
Mary held a special honor as she walked across the stage to receive her associate degree diploma, and it wasn't just that she was graduating Summa Cum Laude - at 77, she is the oldest Forsyth Tech graduate ever!
This mother of 12 children and grandmother of 35 decided to go back to school to earn a degree in Early Childhood Education. Currently, she works as a classroom teacher at MudPies in Winston-Salem.
To help finance her education, Mary turned to Smart Start of Forsyth County and applied for an Educator Scholarship. Through this program, she received tuition assistance as well as support for books.
Mary shared her story at a recent meeting of the SSFC Board of Directors. She told them of her gratitude for the Educator Scholarship program and the impact it has made in her life. She expressed her love of working with young children and her passion for education. Mary certainly left an impression on everyone in the room!
During the past year, SSFC has been able to help Mary and 75 other teachers in Forsyth County to continue their educations through the program. It's just one of the many ways in which SSFC is working to advance the early childhood field in our community.
To see more about Mary's incredible story, please watch
the news stories below: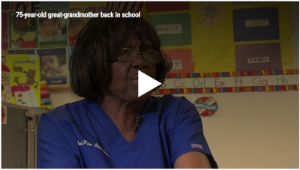 Fox 8 Report on Mary from 2016

Leadership Transition at SSFC
Smart Start of Forsyth County is in the midst of a change - in a good way! In early April, Larry Vellani decided the time was right for his retirement and he let the Board of Directors know that he was resigning as CEO/Executive Director. They, in turn, appointed Jackie Lofton as the Interim Executive Director while they organized the search for a new CEO.
Jackie has worked at SSFC for nearly 14 years and has experience in almost every aspect of the organization. Most recently, she served as the Deputy Executive Director. With Jackie and the other members of the Senior Team, SSFC continues to fulfill its mission and serve the children and educators of our county.
As the CEO Search Committee embarks on its important duty, we will keep you up-to-date on its progress. Please feel free to direct any questions about the search process to ssfc@smartstart-fc.org.
Early Childhood Legislation*
Our state representatives and senators are currently considering legislation related to early childhood development and education:
H.B. 882 - Early Childhood Recommendations/DHHS
This bill focuses on enhancing the early childhood workforce in several ways. It modifies the staff and administrator qualifications for G.S. 110 organizations; requires DCDEE to establish nationally-based competency expectations for early childhood educators, to partner with the Community College System to embed those competencies in certificate and degree programs, and to implement a subsidy payment enhancement program to incentivize childcare centers to employ lead teachers with associate degrees or higher; and enables a feasibility study for a Birth-to-Age-Three pilot program modeled after the NC Pre-K program.
(This bill is similar to S.B. 634 with the addition of nationally-based competency expectations and the partnership with the Community College System.)
H.B. 966 - 2019 Appropriations Act
This is the House-version of the State budget. It includes slight increases in funding for childcare subsidies, the Smart Start initiative, and NC Pre-K rate adjustments.
We encourage you to review these bills and to contact your legislators with any insights you want to share.
*Smart Start of Forsyth County does not endorse or promote specific legislation. This information is provided only to educate our constituents.
Lending Library Is Open for Service!
The Lending Library at Smart Start of Forsyth County has been revamped. There are currently 137 learning kits supporting language development and communication, cognitive skills, STEAM activities, and more. You'll also find big books, CDs, and games to ignite children's imagination and learning. The learning kits provide activities for infants, toddlers, and preschoolers. You may check out three learning kits at a time for a period of two weeks. Visit us to see how you can use these fabulous resources!

June 1
June 11
Last day of school for WS/FCS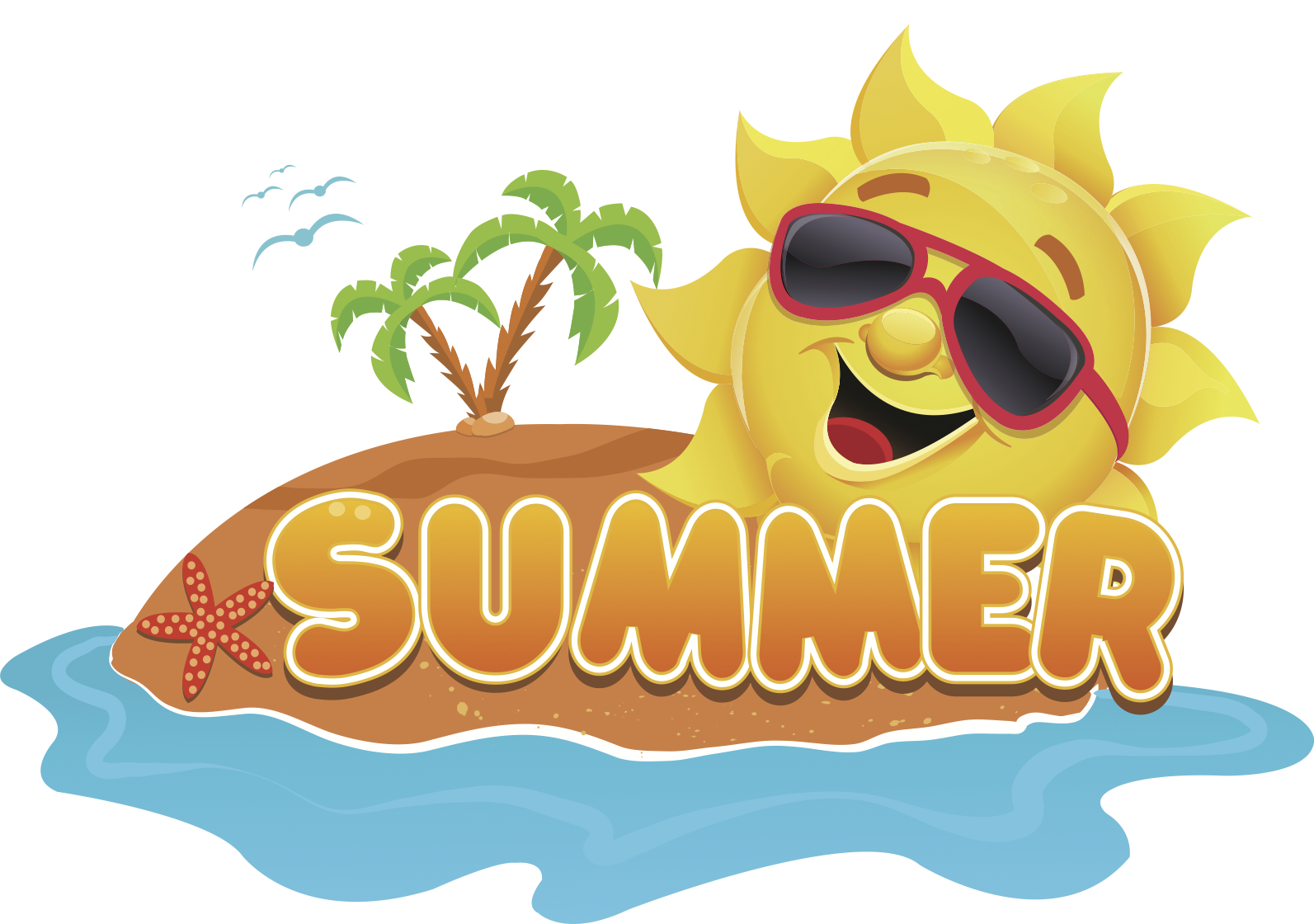 To register for trainings, please visit Eventbrite.com and search for "Smart Start of Forsyth County"

Please only register yourself for trainings

If you need to cancel, please do so the day before the scheduled training

To cancel, email Dana Sandknop or call 336-714-4363

If you do not cancel, there will be a $5.00 fee that must be paid before you can register for another training

Once a training has started, no one will be admitted 10 minutes after the start time

What's In Your Teaching Tool-Kit?
May 28 - 6:30-8:30 pm
This training walks participants through The Teaching Tools for Young Children with Challenging Behavior resource. This tool is packed with strategies based on Positive Behavior Support and the Pyramid Model that are collected in one resource and easily accessible through a free website. Participants will see tools for prevention of challenging behavior as well as tips, forms, guides and practical resources that promote problem-solving skills, friendship development, and social skill instruction, all of which are critical to the core development of school readiness.
The Effects of Screen Time and Children
June 11 - 6:30-8:30 pm
Technology plays such a complex yet substantial part of our daily life. It seems to be an inescapable reality that has monopolized even the smallest citizens in our society. So what are the effects of screen time among children? How does it effect:
• Sleep patterns
• Brain functions
• Cognitive development
• Processing skills
• Language
• Social-emotional development
​• Children's behaviors
We will be taking an in-debt look at how screen time is affecting our children and the strategies which can support families to use screen time in a way that is beneficial for children.
Book spotlight
Book: The Power of Play: Learning What Comes Naturally
Author: David Elkind
Child development expert David Elkind reassures us that imaginative play goes far to prepare children for academic and social success. Through expert analysis of the research and powerful examples, Elkind shows how creative, spontaneous play fosters healthy mental and social development and sets the stage for academic learning.
Words of Wisdom
"Children must be taught how to think, not what to think."
― Margaret Mead
Smart Start of Forsyth County, Inc.
7820 North Point Blvd Ste 200 | Winston-Salem, North Carolina 27106
336-714-4350 | ssfc@smartstart-fc.org